This is an Audio Editor's Note from TRADITION's newly released Spring 2020 issue — Rabbi Jeffrey Saks reads his essay "Issachar  in Lockdown."
In this column, our editor muses on the state of Jewish life and learning during this time of coronavirus. He asks how we might evaluate ourselves in lockdown as individuals and as a community? Even those of us housed with family members are undergoing prolonged isolation from friends and colleagues, teachers and students, rabbis and congregants, workplaces and synagogues, with no end in sight. Assuming we are, please God, among the healthy sheltering in place, how are we making the most of our time enough at last? 
Click here to read the print version of the column — or listen to the audio version below.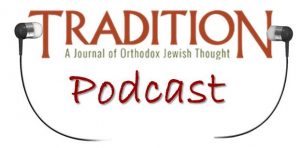 SUBSCRIBE TO THE TRADITION PODCAST
Available on iTunes / Spotify / SoundCloud / Stitcher / Google Play
[Published on May 18, 2020]