TRADITION's  recent Fall 2020 issue features a fascinating symposium on "Jewish Thought in the Contemporary World: Educational Challenges and Goals," guest edited by Mrs. Mali Brofsky who writes by way of introduction:
Meaning and complexity are the two essential values that lie at the heart of learning Jewish thought. These two concepts are central to an individual's living a purposeful life, as well as to our creating a thriving culture and society. The search for truth and meaning shapes the discipline, as well as the attempt to cut to the core ideas upon which we build our values, our interpersonal interactions, our communities, and our culture. But this endeavor cannot be achieved without the second principle, complexity, which serves as the tool enabling this discovery of truth and meaning through intellectual excavation and thoughtful sharpening of ideas. Now, more than ever, the serious study of Jewish thought, both for its content – the serious exploration of intellectual, ethical, religious, and spiritual values and ideas – and for the critical skills it engenders is invaluable. It is inspiring to see that so many contemporary teachers are considering these issues with thoughtfulness, dedication, and commitment.
The eleven, wide-ranging entries in the symposium were authored by some of today's leading thinkers, educators, and academics in North America and Israel. TRADITION thanks Mali Brofsky, herself a distinguished pedagogue in the field of Jewish thought, faculty member at MMY and a social worker in private practice. In this podcast Mali meets with 2 of the authors:
R. David Bashevkin is the director of education for NCSY and an instructor at Yeshiva University. He recently published Sin·a·gogue: Sin and Failure in Jewish Thought.
Dr. Daniel Rynhold is Professor of Jewish philosophy and Dean at the Bernard Revel Graduate School of Jewish Studies at Yeshiva University. His most recent book, coauthored with Michael Harris, is Nietzsche, Soloveitchik, and Contemporary Jewish Philosophy, which was reviewed in our Summer 2019 issue.
Click here to access the Fall 2020 symposium.
Click here to watch the Zoom video recording of this conversation.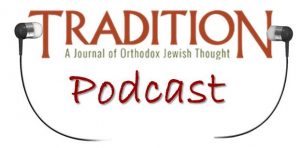 SUBSCRIBE TO THE TRADITION PODCAST
Available on iTunes / Spotify / SoundCloud / Stitcher / Google Play
[Published on October 27, 2020]