The central feature of Professor Haym Soloveitchik's "Rupture and Reconstruction: The Transformation of Contemporary Orthodoxy" (TRADITION, Summer 1994) was its focus on trends in Ashkenazic Orthodoxy of the twentieth century. Given Soloveitchik's areas of scholarly focus, and the community he was describing, it could hardly have been otherwise. Our recent symposium on the twenty-fifth anniversary of the essay neglected to offer other perspectives on the issues from a less "Ashkenormative" angle. We were pleased to offer a corrective by publishing an essay by Joseph Dweck, "Rupture and Reconstruction: A Sephardic Perspective," in our recent Summer 2020 issue.
Rabbi Dweck is uniquely situated to reflect on this, serving as the Senior Rabbi of the Spanish and Portuguese Sephardi Community of the United Kingdom. Dweck joins TRADITION's editor, Jeffrey Saks, to discuss his essay, and trends in the community he leads. Among the topics the two explore is the impact and legacy of Rav Ovadia Yosef in crafting a pan-Sephardic religious tradition. Read Saks' review essay in TRADITION (Summer 2007) which examined this question at length.
Click here to watch the Zoom video recording of the conversation.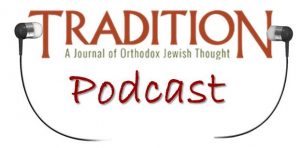 SUBSCRIBE TO THE TRADITION PODCAST
Available on iTunes / Spotify / SoundCloud / Stitcher / Google Play
[Published September 1, 2020]