As our listeners by now know we've been producing these mini-episodes of our podcast—chatting with our editors and authors about matters of Jewish thought to gain some insights which might guide us through these troubling times of coronavirus.
In August 2005 Hurricane Katrina wreaked havoc across the Caribbean and the Gulf Coast of the United States, inflicting the brunt of its damage in New Orleans. Up to 1,800 people are estimated to have lost their lives; $125 billion dollars in damage was inflicted. Within the Jewish community we saw incredible acts of resilience and kindness to our co-religionists and to fellow citizens at large. And yet, we were also witness to a variety of rabbinic prognosticators who thought they could intuit God's plan in destroying the "Big Easy." During this current pandemic, we are similarly searching for answers, and the temptation to read the Divine mind must be resisted. That being said, how are we to make sense of the period we are living through, with its suffering and fear? We thought it would be instructive to talk with Rabbi Emanuel Feldman, whose essay in the wake of Katrina, "Plunging Into Mighty Waters and Emerging With a Broken Shard: New Orleans and the Mind of God" (TRADITION, Spring 2007), asked "How did it come about, this delusion that we know the secret workings of the mind of God?"
Rabbi Emanuel Feldman served as the editor of TRADITION from1988 to 2001. He is the Rabbi Emeritus of Congregation Beth Jacob in Atlanta, and has maintained an active writing career in retirement from his home in Jerusalem.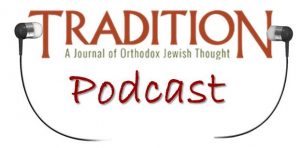 SUBSCRIBE TO THE TRADITION PODCAST
Available on iTunes / Spotify / SoundCloud / Stitcher / Google Play
[Published on March 31, 2020]