In this special coronavirus episode of the TRADITION podcast, our editor, Jeffrey Saks, talks with Yitzchak Blau about his Winter 2009 essay whose titled asked the rhetorical question: "Is Courage a Jewish Value?" 
We have all been thinking about courage these days, especially in light of the many acts of resilience (spiritual and otherwise) in the face of Covid-19 to which we've been witness. Blau suggests that courage is a concept which lurks in the background of many Jewish texts. Why isn't it more in the foreground? How do traditional Jewish sources explicitly endorse and emphasize the virtue of courage? Need courage rooted in religious values such as faith and trust in God entail an absence of fear?
Rabbi Yitzchak Blau is the Rosh Yeshiva of Yeshivat Orayta in Jerusalem's Old City, and an associate editor of TRADITION.
The conversation, and Blau's original essay, reference Rabbi Joseph B. Soloveitchik's "Redemption, Prayer, Talmud Torah" (TRADITION, Spring 1978), available in our archives.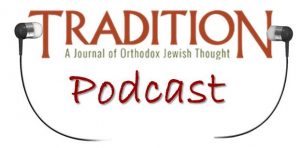 SUBSCRIBE TO THE TRADITION PODCAST
Available on iTunes / Spotify / SoundCloud / Stitcher / Google Play
[Published on March 22, 2020]