In TRADITION's recent Spring 2020 issue we published an essay by Dr. Yaakov S. Weinstein, a physicist by profession and a new writer to our pages. His essay "Four Facets of the Love of God" explores themes in Ahavat Hashem, drawing on C.S. Lewis' important work The Four Loves, which is a rich portrayal of the multiple types of human and divine love. Lewis, perhaps most well-known for his "Chronicles of Narnia," was a significant 20th century British author, academic and popular theologian.
Recently Rabbi Mark Gottlieb, a member of TRADITION's editorial board and our resident C.S. Lewis expert, had a chance to discuss the article with Dr. Weinstein, and explore the literary and theological legacy of Lewis through a Torah lens. The two question the potential contributions of Lewis to a Jewish worldview. Along the way, they debate the merits of Lewis' different literary genres, and his engagement with both Judaism and with actual Jews. Most significantly they consider the question of how traditional Jewish thought can be substantively enhanced and deepened by an encounter with the writings of C.S. Lewis. 
Click here to watch the Zoom video recording of their conversation.
Dr. Yaakov S. Weinstein is a physicist for the MITRE Corporation and blogs at Torah from Narnia. Rabbi Mark Gottlieb is Senior Director of the Tikvah Fund and Dean of the Tikvah Summer Institute at Yale University.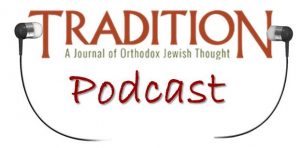 SUBSCRIBE TO THE TRADITION PODCAST
Available on iTunes / Spotify / SoundCloud / Stitcher / Google Play
[Published on June 14, 2020]