Rav Zalman Nechemiah Goldberg zt"l, who passed away in September 2020 at the age of 89, was a towering rabbinic authority who provided halakhic guidance to Jews throughout the world on a panoply of contemporary issues. He possessed a unique blend of phenomenal erudition and real-world perspicacity. When approached for his expertise on contemporary halakhic questions, such as the difficult 9/11 Aguna cases or various mamzerut issues, he would unflinchingly tackle every question, leaving no stone unturned in his rigorous and detailed analysis. One of his legendary traits was to apply the intricacies of halakhic discourse to the practical world of contemporary dispute resolution in the Jewish community. In so doing he brought traditional lomdus down to earth.
To help readers gain an appreciation of his sense of practical halakha in the context of the modern beit din, TRADITION recently published a translation of his important essay "Shivhei HaPeshara" (Fall 2021) about the many practical advantages of deciding cases according to principles of equity or compromise, the standard utilized by many rabbinical courts today, and not simply according to strict halakha (din). This essay is an excellent introduction to understand R. Zalman Nechemiah's halakhic thought and offers insight to the mind and heart of one of our generation's most significant halakhists.
As "In Praise of Peshara" is somewhat technical in nature we invited R. Yona Reiss and R. Daniel Z. Feldman, of TRADITION's editorial board, to discuss it, unpack its ideas, and enable greater understanding of the issues. They each describe their own personal relationships with R. Zalman Nechemiah, and how this essay reflects larger themes in his worldview and jurisprudence.
Subscribers can access "In Praise of Peshara" here.   
Rabbi Yona Reiss is the Av Beth Din of the Chicago Rabbinical Council and a Rosh Yeshiva at the Rabbi Isaac Elchanan Theological Seminary (RIETS) at Yeshiva University, where he holds the Rabbi L. Katz Chair in Professional Rabbinics. He is the author of Kanfei Yona, a compendium of essays and responsa about contemporary issues in Jewish law. (Read R. Reiss' eulogy for R. Zalman Nechemiah Goldberg, "Halakha Down to Earth" on TraditionOnline.
Rabbi Daniel Z. Feldman is a Rosh Yeshiva at the RIETS, an instructor in the Sy Syms School of Business and the Wurzweiler School of Social Work, and the spiritual leader of Ohr Saadya in Teaneck, NJ. He has authored nine volumes on Jewish law and thought, most recently False Facts and True Rumors: Lashon HaRa in Contemporary Culture, and serves as the Executive Editor of the RIETS initiative of YU Press.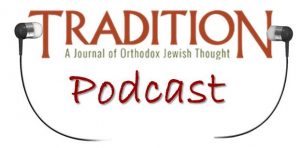 SUBSCRIBE TO THE TRADITION PODCAST
Available on iTunes / Spotify / SoundCloud / Stitcher / Google Play