In this short podcast episode, R. Jeffrey Saks talks with Rabbi Mark Smilowitz, a veteran educator in North America and Israel, about his newly released song, "Ki Lekha." The words are taken from the Monday and Thursday Tahanun prayer, and speak of our beseeching God in times of distress, peril, and plague:
Salvation is Yours, Lord. Our Father, our King, our Refuge, do not act with us according to our evil deeds. Remember, Lord, Your tender mercies and Your love. Save us in Your great goodness, and have mercy on us, for we have no other god but You, our Rock. Do not abandon us, Lord our God, do not be distant from us, for we are worn out by the sword and captivity, pestilence and plague, and by every trouble and sorrow. Rescue us, for in You lies our hope. Put us not to shame, Lord our God. Let Your face shine upon us. Remember for us the covenant of our ancestors and save us for Your name's sake. See our troubles and heed the voice of our prayer, for You heed the prayer of every mouth (Sacks translation).
Before debuting the song right here on the podcast, they spoke about music's power to channel emotion, the challenge of finding meaning in prayer, and the importance of creativity as religious expression. Smilowitz has been slowly composing the song off and on for over twenty years. It should not be surprising that coronavirus provided new insight to the tefilla, and provided the impetus to complete the project and issue the recording.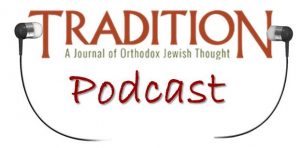 SUBSCRIBE TO THE TRADITION PODCAST
Available on iTunes / Spotify / SoundCloud / Stitcher / Google Play
[Published on April 6, 2020]