On April 23, 2023, TRADITION: A Journal of Orthodox Jewish Thought and the Rabbinical Council of America convened our first TRADITION Today Summit, hosted at Congregation Rinat Yisrael in Teaneck, NJ, exploring "Material Success and Its Challenges." Among the papers presented at the event was a fascinating item co-authored by Avital Chizik-Goldschmidt and Chaim Saiman, "Material Success and the Rise of 'Modern, Orthodoxy'" – in which a lot rides on the title's enigmatic comma.
While the papers from the Summit will be appearing in an upcoming issue of TRADITION, in the hopes that the discussions and debates there will have a greater impact and reach within the broader community, we are rolling out some of the content through our journal's different media arms. In this episode of our podcast, editor Jeffrey Saks (who co-chaired the Summit with Shlomo Zuckier) chats with Saiman about the paper and the unique and curious ways in which the markers of Orthodoxy's material aspirations each respond to the halakhic requirements and religious aspirations of persons who live fully within Orthodoxy and who are invested in its continuity. 
Chaim Saiman is Professor of Law and Chair in Jewish Law at Villanova University's Charles Widger School of Law, and Albert J. Wood Fellow at the Katz Center for Advanced Judaic Studies, University of Pennsylvania.
Watch a video recording of the conversation.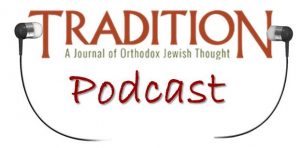 SUBSCRIBE TO THE TRADITION PODCAST
Available on iTunes / Spotify / SoundCloud / Stitcher / Google Podcasts