In the 1970s Moral Philosophy turned its attention to an ancient topic – but coined a new name to organize our thinking about it. That field, now known as "Moral Luck" constitutes a set of fascinating and important philosophical debates. Do we judge people by their intentions, for good or for ill, or by the results of those intentions? This has serious implications for both ethics and jurisprudence, and in civil society as well as for halakha and within our own religious tradition.
Rabbi Dr. Michael J. Harris recently published "Resultant Moral Luck and Jewish Tradition" (TRADITION, Fall 2022), examining the many significant sources within rabbinic literature that can be brought to bear on this discussion. Harris is Senior Rabbi of the Hampstead Synagogue and Senior Research Fellow at the London School of Jewish Studies. The conversation delved into his essay and the philosophical, halakhic, and aggadic literature surrounding "Moral Luck," but also discussed how he navigates his role as both community rabbi and academic scholar, as well as the state of philosophical inquiry and the liberal arts within contemporary Modern Orthodoxy.
Watch a video recording of this conversation.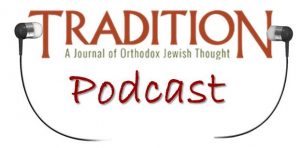 SUBSCRIBE TO THE TRADITION PODCAST
Available on iTunes / Spotify / SoundCloud / Stitcher / Google Play