In TRADITION's Summer 2020 issue we deviated from our normal habit and published a review of a work of fiction – Yaakov Z. Mayer's new Hebrew novel, Nehemiah (Yediot Sefarim), reviewed for us by Dr. Shlomo Tikochinski (read it here).
Mayer is a writer in the Israeli popular press, an academic, and a novelist. In his academic work he focuses on the printing of the Talmud, the history of Hebrew publishing. He is, as he calls himself, a "Historian of the Book" as a physical and cultural object in Jewish life.
The release last autumn of Nehemiah caught the Israeli literary world by surprise. The novel focuses on Nehemiah Cohen, a historical figure, a 17th-century rabbi and kabbalist who travelled from Poland to Turkey to meet the false messiah Sabbatai Tzvi – and Cohen's eventual conversion to Islam in the wake of Sabbatai himself. The novel traces Nehemiah's travels throughout Europe in the company of an enchanting cast of characters – some based on historical figures, others conjured through the author's imagination. Students of Rabbinic literature will be interested in a novel that features the likes of the Magen Avraham, the Bach, Shach, and Taz, alongside others.
In this episode, Mayer chats with our editor, Jeffrey Saks, about the intersection of his academic, literary, and Torah study interests, and the production of this work; how those of us interested in those three realms can benefit from historical fiction; trends in 21st-century Jewish learning and spirituality which are reflected in this novel about the 17th century; and the state of contemporary Israeli culture's interactions with Jewish texts and language. 
Click here to watch the Zoom video recording of this session. (Apologies for the sound quality – the current lockdown prevented us from meeting in the TRADITION Recording Studio.)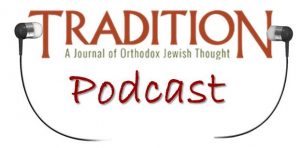 SUBSCRIBE TO THE TRADITION PODCAST
Available on iTunes / Spotify / SoundCloud / Stitcher / Google Play
[Published on October 6, 2020]