With Rosh Hashana around the corner, and the end of the Shemitta year upon us, TRADITION's editor Jeffrey Saks sat down chat with Shlomo Brody about his recent essay "The Curious Case of Prozbul's Disappearance and Resurgence" (open access).
Brody's essay offers a fascinating tour of an episode in the history of halakha: how the rabbinically enacted prozbul document, which helps circumvent the loan forgiveness imposed every seven years at the end of the Shemitta cycle, came about, then fell out of use, and subsequently resurged – taking on new force and meaning in recent Jewish history. This test-case raises interesting questions about how and if halakha adapts and evolves. 
Rabbi Dr. Shlomo Brody was recently appointed the Executive Director of the Halakhic Organ Donor Society.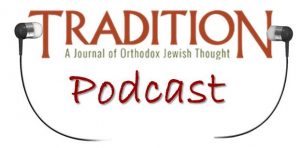 SUBSCRIBE TO THE TRADITION PODCAST
Available on iTunes / Spotify / SoundCloud / Stitcher / Google Play