Congregation Rinat Yisrael of Teaneck, NJ, hosted a special Tikkun Leyl Hoshana Rabba remembering the legacy of Rabbi Dr. Norman Lamm z"l, and celebrating the publication of TRADITION's Rabbi Lamm Memorial Volume.
Speakers: Rabbi Chaim Strauchler, Rabbi Jeffrey Saks, Yoetzet Halacha Tova Warburg Sinensky, Rabbi Tzvi Sinensky. Click here for more inforation about the volume and to order your copy. 
Watch the video recording of the event here.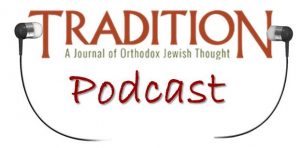 SUBSCRIBE TO THE TRADITION PODCAST
Available on iTunes / Spotify / SoundCloud / Stitcher / Google Play
.