Listen to the recording of the special first Yahrzeit memorial program for TRADITION's founder Rabbi Dr. Norman Lamm zt"l. Introduction by Rabbi Yosie Levine. Lectures by Rabbi Meir Soloveichik, Yoetzet Tova Warburg Sinensky, and Rabbi Ari Lamm. Closing Remarks by Rabbi Ari Berman. (May 19, 2021)
Presented by Yeshiva University, The Lamm Heritage Archives, Rabbinical Council of America, Orthodox Union, The Jewish Center, and TRADITION.
Watch the video recording here (YouTube).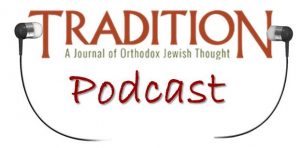 SUBSCRIBE TO THE TRADITION PODCAST
Available on iTunes / Spotify / SoundCloud / Stitcher / Google Play