The late and lamented Rabbi Jonathan Sacks was a frequent critic of the emergence of a post-truth culture and also a life-long opponent of moral relativism. Yet, in his book, The Dignity of Difference: How to Avoid the Clash of Civilizations, he was an ardent proponent of a form of religious pluralism. When first published over 20 years ago his position was both attacked and misunderstood—giving rise to questions about how his Orthodoxy and his devotion to objective truth were able to sit alongside his advocacy for a form of religious pluralism. 
Samuel Lebens explored these questions in an essay for TRADITION's Spring 2022 issue titled "One God, One Truth, Many Languages: Rabbi Sacks' Pluralism Reexamined" (open access here).
In this podcast, Dr. Erica Brown, a consulting editor at TRADITION, talks to Lebens about these topics in Rabbi Sacks' thought and about his recent essay.
Rabbi Samuel Lebens is an Associate Professor of Philosophy at the University of Haifa, and the author of, most recently, The Principles of Judaism (Oxford University Press), which investigates the axioms of Jewish faith through the lens of contemporary analytic philosophy, and the forthcoming Philosophy of Religion: The Basics (Routeledge). Dr. Erica Brown serves as the Vice Provost and Inaugural Director of Sacks-Herenstein Center for Values and Leadership at Yeshiva University.
Watch a video recording of this conversation at YouTube or listen below: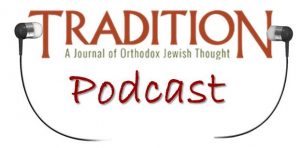 SUBSCRIBE TO THE TRADITION PODCAST
Available on iTunes / Spotify / SoundCloud / Stitcher / Google Play