"The entire world is a very narrow bridge." The world, all of life, is a "narrow bridge," on either side of which is a gaping, terrifying abyss. Someone who does not live this experience cannot understand it. One needs to traverse the bridge, and it is clear from an objective perspective that he is capable of doing so. This is why "the main thing is not to fear at all." Your greatest enemy is not outside of you, but, rather, inside of you. It is fear itself.
So writes Prof. Shalom Rosenberg z"l in his essay "A Narrow Bridge: Rabbi Nahman of Breslov's Faith in a World of Doubt" appearing in TRADITION's recent Fall 2023 issue. Rosenberg was a distinguished professor of Philosophy and Jewish Thought at the Hebrew University and a widely-regarded public intellectual. He passed away in Jerusalem in March 2023. This essay was, of course, written and sent to press before our current traumatic moment in Israel — what all agree is a time in which we must find faith in a world of confusion and many are plagued by doubt. Because Rosenberg's essay presents itself to us with such unexpected timeliness, we thought it would be instructive to discuss it with Rabbi Dr. Zvi Leshem, himself a student of Rosenberg. Leshem is the director of the Gershom Scholem Collection for Kabbalah and Hasidism at the National Library of Israel.
Read "A Narrow Bridge: Rabbi Nahman of Breslov's Faith in a World of Doubt" (TRADITION, Fall 2023).
Watch a video recording of this conversation on YouTube.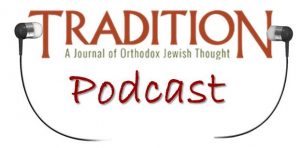 SUBSCRIBE TO THE TRADITION PODCAST
Available on iTunes / Spotify / SoundCloud / Stitcher / Google Podcasts