As our readers and listeners likely know, since the launch of the TraditionOnline website in the summer of 2019 we have published a weekly feature called "The BEST." In that column we have asked a wide variety of writers to consider what things "out there" in the big wide world make them think and feel. What elements in general culture potentially inspire us to live better? We have sought to share these insights on cultural objects – both high and low – that might still be described as "the best that has been thought and said," in Matthew Arnold's phrase. We considered the types of art, literature, film, you name it, that can serve as an antidote to the anarchy of materialism, industrialism, individualistic self-interest, and worst elements of modernity.
So far, The BEST has produced almost 150 entries on everything from Dante, Milton, and Shakespeare; Jane Austen and Emily Dickenson; John Locke and John Stuart Mill; the speeches of Lincoln and Dr. King… and reaching all the way over to the music of Johnny Cash and Joni Mitchell; Star Trek and Star Wars; and even took up "Zen and the Art of Motorcycle Maintenance." The full archive of these essays and so much more can be found at www.traditiononline.org/thebest
However, we inform our listeners, The BEST will be going on recess for a period. It will return in the future, but keep your eyes on our website for news of the exciting feature which will be filling in for a number of months starting after the holidays. Before The BEST takes its break we wanted to do a bit of a retrospective. In this conversation, Marina Zilbergerts, Dov Lerner, and Chaim Strauchler discuss the challenges and opportunities of harnessing worldly culture in the service of religious life. They also consider questions of instrumentalism, the decline of the liberal arts, and the recent "New York Times" expose on Hasidic yeshivot.
Marina Zilbergerts is a scholar of Jewish literature and thought and the author of The Yeshiva and the Rise of Modern Hebrew Literature.
Dov Lerner serves as the Rabbi of the Young Israel of Jamaica Estates and a member of the faculty at Yeshiva University's Straus Center for Torah and Western Thought.
Chaim Strauchler is the rabbi of Cong. Rinat Yisrael in Teaneck, and is an associate editor at TRADITION, where he shepherds The Best column, and has provided us all with so much thoughtful and thought-provoking content.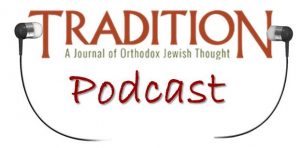 SUBSCRIBE TO THE TRADITION PODCAST
Available on iTunes / Spotify / SoundCloud / Stitcher / Google Play