For over a year TraditionOnline has been featuring a weekly column exploring different cultural treasures which have the potential to contribute to the spiritual life and mind. "The BEST" (whose title is drawn from Matthew Arnold's well-known line about  reading "the best that has been thought and said" as an antidote to the anarchy of materialism, industrialism and individualistic self-interest) has profiled a staggering array of items: from poetry, literature, art, film and television—you name it.  In "The BEST" you're as likely to encounter Harry Potter or the Twilight Zone as you are Shakespeare and Robert Frost. To mark the first anniversary of the column, its mastermind and editor, Chaim Strauchler, discussed "The BEST" with two of our regular authors: Naamit Sturm Nagel, a teacher of English and Jewish literature at Shalhevet High School in Los Angeles, and Yitzchak Blau, Rosh Yeshivat Orayta and an associate editor of TRADITION. 
Chaim Strauchler is the rabbi of Shaarei Shomayim in Toronto, and an associate editor of TRADITION. Click here to read his introduction to "The BEST" and to see an index of all the columns in the series.
Watch a Zoom video recording of this episode.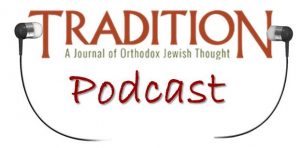 SUBSCRIBE TO THE TRADITION PODCAST
Available on iTunes / Spotify / SoundCloud / Stitcher / Google Play
[Published on September 10, 2020]