Here we are, days before the arrival of Passover. If we are not drowning in cleaning products, chances are we're doing the equally important work—perhaps more important work—of reflecting on the Exodus story in advance of Seder night. A highlight of this week's observances is the recounting of the biblical Ten Plagues. In an interesting new book, Dr. Jeremy Brown considers the Eleventh Plague, a kind of catch-all phrase he uses to explore how Jews as a people and Judaism as a religious tradition have encountered and responded to plagues, disease, and pandemics from the Bible right up to our own days of COVID-19.
Dr. Jeremy Brown, Director of the Office of Emergency Care Research at the National Institutes of Health, is a physician and historian of science and medicine. TRADITION's Winter 2021 issue featured his essay "The Plague Wedding," which was republished as a chapter in his most recent book, The Eleventh Plague: Jews and Pandemics from the Bible to COVID-19 (Oxford University Press).
The TRADITION Podcast recently caught up with Brown to talk about his work, traditional Jewish responses to plague and disease, and, more generally, his assessment of how Jewish thought and halakhic tradition have responded over time to such occurrences—and how we fared during the most recent pandemic. Jeremy considers the long arc of history and does so through the prisms of theology, halakha, ritual, and folk custom (some admittedly bizarre—including the so-called shvartse khasene or plague wedding, about which he wrote in our pages). He balances this with the insights and wisdom drawn from history, epidemiology, medical science, sociology, and public policy. 
The host for this episode is Jeffrey Saks, editor of TRADITION.
Watch a video recording of this conversation.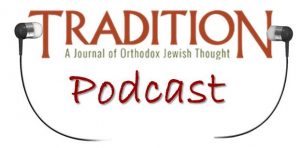 SUBSCRIBE TO THE TRADITION PODCAST
Available on iTunes / Spotify / SoundCloud / Stitcher / Google Podcasts