Avivah Gottlieb Zornberg is an internationally recognized teacher and lecturer around the English-speaking world and, each week, in multiple settings in Jerusalem, where her unique style of integrating keen readings of the weekly Torah portion with the commentaries of midrash, classical meforshim, Hasidic interpretation, and more, are supplemented by the insights she draws from philosophy, psychoanalytical readings, literature, and culture at large – the "best that's been thought and said," as it were. Her work has inspired a generation of students, and has produced a very rich body of six volumes on biblical books and themes. 
TRADITION's Winter 2021 issue featured her essay "On Love, Holiness, and the Other," and, channeling the work of psychoanalyst Jonathan Lear and R. Aharon Lichtenstein, explored the "command to aspire" as an ethical imperative. That essay has now appeared as part of a larger chapter in her most recent book, The Hidden Order of Intimacy: Reflections on the Book of Leviticus (Schocken).
As the Jewish world commences our annual reading of Leviticus this week the TRADITION Podcast spoke with Zornberg about her new book, the unusual way it came about, and the intellectual "atmosphere" she breathes in order to produce works of Torah scholarship that bring together such wide-ranging voices. We also discussed the troubling state of the study of the humanities in the world today and within Jewish learning in particular. The host for this episode is Jeffrey Saks, editor of TRADITION.
Watch a video recording of this conversation.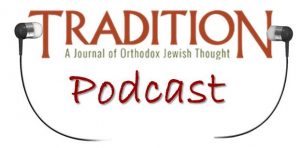 SUBSCRIBE TO THE TRADITION PODCAST
Available on iTunes / Spotify / SoundCloud / Stitcher / Google Podcasts