Three decades following the passing of the Rav zt"l his legacy endures and his teachings still inspire – but how do we communicate his Torah to a generation "which did not know Yosef" (R. Yosef Dov Halevi Soloveitchik, that is)? This is a question that is explored from a few different angles in TRADITION's recent expanded issue on the thought of the Rav. 
Readers of the special issue will discover that one of the many insightful perspectives on this particular question is offered by Mali Brosky, whose essay "The Rav's Enduring Pedagogical Relevance" takes up the challenge of how we can best convey R. Soloveitchik's thought, hashkafa, and philosophy to students born over a decade after his death and almost a generation after he left the public stage. It is indeed complex, but crucial, and Brofsky makes a compelling case for why it's more important than ever, offering some lessons from her many years of teaching. She recently discussed her essay on the podcast she co-hosts, RZ Weekly, which surveys issues facing the Religious Zionist community in Israel and worldwide. It's an engaging weekly roundtable conversation between Mali and her educational colleagues, Johnny Solomon and Reuven Spolter. We thank them for allowing us to share the segment of this episode over our feed  – search for RZ Weekly on all podcasting platforms to subscribe. 
Mali Brofsky is a senior faculty member at Michlelet Mevaseret Yerushalayim, teaches for Wurzweiler School of Social Work at Hebrew University, and runs a clinical social work practice in Gush Etzion. Subscribers can access her essay alongside some open-access content available to all at TraditionOnline where the issue can be purchased as well.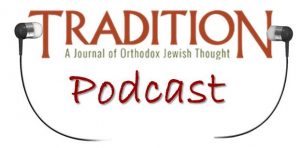 SUBSCRIBE TO THE TRADITION PODCAST
Available on iTunes / Spotify / SoundCloud / Stitcher / Google Podcasts